Fashion Hub is a marketplace for wholesalers which is situated in Surat (india) for buying and selling across India, connecting manufacturers or big wholesalers directly. Fashion Hub is having more than one Half subscribers on YouTube.
price & experience- It is the new age online B2B e-commerce platform where we have Varieties of clothes like Anarkali, Plazo, Heavy Cotton Suits, Gharara, Sharara, Un-stitched Dress Material and Fancy Georgotte Suits etc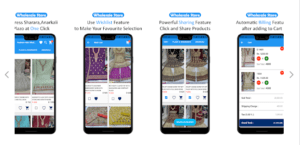 From Fashion Hub, a retailer can order products in bulk for reselling and the order will be delivered at his/her chosen place with various delivery options.
Experience our end to end B2B e-commerce platform to buy products at best wholesale prices directly through our app where we provide a simple way to to buy your product though our whatsapp as well. Fashion Hub procures products directly from Companies or their authorised delivery hub. We guarantee delivery of 100% Genuine Products at retail shops.
-How to download Fashion Hub App :-
Step 1- Open playstore in your Android Phone.
Step 2- tap on the search button and write (Fashion Hub – Surat Dress Material Wholesale Shop)
Or
Step 3 – You directly click here to download.
How to Use our Fashion Hub App
After Download, you easily can able to understand that how this app will work.
---
Easy to Share feature :-
As you can see up, while if you need to Share products with your friends or family members then It's very easy for you via using our new feature sharing button, Each and everyone of you can easily able to share every products of this store with anyone else.
---
Wishlist :-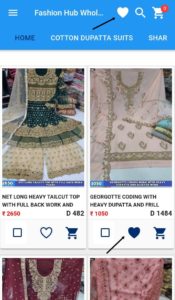 Here you also get one more new feature (Wishlist) which helps you to Collect your best product in your separate space so that you can directly open that particular product in less time, We Specially created This Wishlist Button for our Customers Via which they can easily get to know about their best product in future too, if they use our Wishlist Feature.
---
 Auto Cart Billing Feature :-
After Adding your Product Into your cart, The Next Step you have to do is Product samples order Which you can See Below.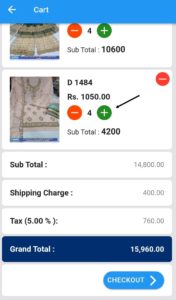 Here as you can see that after adding the product into your Cart, You easily get to know that how much products sample you are ordering and in the case if you want want to increase or decrease your product count then you easily can do it while using this feature.
---
-Easy to Pay :-
Maintaining a high cash flow in the business is one of the top priority for any business. most of the companies are opening their doors to accept payment online. Online invoice payment helps companies save time, are faster and save maximum efforts for the clients.
so by Keeping that in mind we make payment though our whatsapp Which can save your lot of time and while using this method your payment 100% secured by us, you Just need to select your product and add into your cart by which you can easily place your order safely and easily.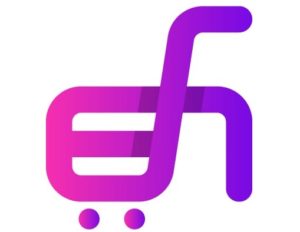 Application features:-
★ Free Download
★ Regularly updated products and catalogue
★ User friendly interface
★ Whatsapp Support
★ Share Multiple Images on One click
★ High-resolution, Incredible HD Images
★ Ask your Inquiry direct to App owner
★ (Wishlist) to add your favourite products
★ Easy to pay though Whatsapp
★ cart with billing
Our Main Varieties :-
★ Anarkali
★ Plazo
★ Heavy Cotton Suits
★ Gharara
★ Sharara
★ Un-stitched Dress Material
★ Fancy Georgotte Suits
Want demanded and stylish stuff at manufacture/wholesale price?
Then download this app.
Don't forget to share your reviews about this app.
---
Subscribe Our youtube Channel to be Updated with Us
For more Updates You also can Join us on Telegram Group.